Dear Clients and Friends,
The veterinary team and staff at Red Lodge Veterinary Clinic are excited to welcome Dr. Casey Gruber to the practice.
Dr. Casey Gruber grew up near Joliet, MT and became interested in veterinary medicine at an early age. He competed in both high school and intercollegiate rodeo while growing up. He received his undergraduate degree at Montana State University in 2003 and his doctorate of veterinary degree (DVM) at Colorado State University in 2008. He next completed an internship in equine medicine at Pioneer Equine Hospital in Oakdale, CA. Following completion of his internship, Dr. Gruber moved to Calgary, Alberta and worked as an associate veterinarian at Moore Equine Veterinary Centre for 6 years. While in Calgary, Dr. Gruber served as adjunct clinical instructor at the University of Calgary, School of Veterinary Medicine, teaching clinical rotations to senior veterinary students. He has attended to horses competing at the Spruce Meadows tournaments and Calgary Stampede. He has also worked in past winters at the Winter Equestrian Festival and Global Dressage competitions in Wellington, FL.
Dr. Gruber holds a special interest in performance horse medicine including lameness and podiatry. In addition, to a large portion of his career devoted to equine medicine, Dr. Gruber has also worked consistently with cattle. He served as facility veterinarian at Alta Genetics in addition to providing service at Calgary area ranches for 6 years. He will also be expanding his services to include small animal medicine here in Red Lodge.
Dr. Gruber, his wife Dominique and their baby boy Jack, look forward to joining the Red Lodge community and working with Dr. Beug at Red Lodge Veterinary Clinic.
With the addition of Dr. Gruber we are expanding our services to include after-hours emergency care for large animals and mobile ambulatory service in the greater Red Lodge area. With these new changes and expansion of staff we will be able to continue to provide the latest in quality veterinary care for both pets and livestock.
We thank you for your loyalty and patronage over the last 40 years. Be sure to check our Facebook page for further updates.
Sincerely,
John Beug, DVM
K Laser Therapy

Laser Therapy is proven to bio-stimulate tissue repair and growth. The Laser accelerates wound healing, and decreases inflammation, pain, as well as scar tissue formation. When it comes to pain management, Class IV Lasers are a side effect free and non-addictive treatment that provide dramatic results.
During each painless treatment, laser energy increases circulation, drawing water, oxygen, and nutrients to the damaged area. This creates an optimal healing environment that reduces inflammation, swelling, muscle spasms, stiffness, and pain. As the injured area returns to normal, function is restored and pain is relieved.
To learn more visit K Laser USA
We are excited to offer Stemlogix Stem Cell Therapy for osteoarthritis, tendon, and ligament repair for both Equine and Canine patients.
We use adipose (fat) derived stem cells that are easily harvested from the patient by a simple, minimally invasive, scar-free, liposuction procedure. The sample is then processed on site and the fresh stem cells are immediately injected into the joint, ligament, or tendon. The whole procedure takes approximately 3-4 hours. This eliminates the need for shipping to a lab, time delay, and tissue culturing.
We have tested 6 cases at this time and are very impressed with the results.
To learn more visit Stemlogix.com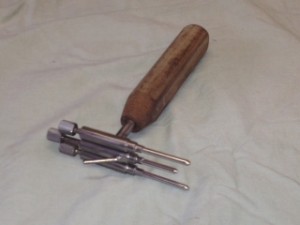 New Surgical Procedure for Ringbone
Pastern Arthrodesis:
Dr. Ellis Farstvedt has modified the surgical technique for pastern arthrodesis (fuzzing of a joint) in horses with advanced ringbone in the pastern. The surgical procedure is much more minimally invasive than the traditional procedure. Dr. John Beug invented a drill guide that shortens surgery time by half. This procedure greatly reduces anesthesia time, down time, patient discomfort, and cost.